A team of PhD students at the Kaunas University of Technology (KTU) Professor Kazimieras Baršauskas Ultrasound Research Institute has won the international NDT student challenge.
to be held in Williamsburg, USA. As a part of this conference, the NDT Student Challenge was organised for the students. This student challenge is about finding a solution for the given problem using the NDT techniques. Teams comprising two to maximum four master and doctoral students have taken part in the competition. The final round was held virtually on January 19, 2021, via the website ndt.net. Three teams comprising two to maximum four master and doctoral students from Germany, Lithuania and China have competed in the final. Over 200 people joined the live stream of the competition.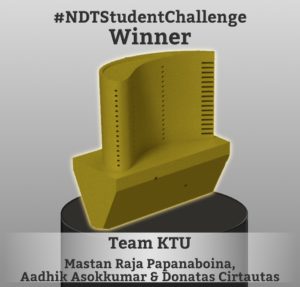 The numerical model of the additively manufactured jet engine turbine blade was designed by NASA for this competition. To achieve equal conditions and a high scientific and technical standard, EXTENDE provided, with the agreement of the CEA, the modelling software CIVA, one training workshop to each of the teams and individual CIVA support on demand. The teams have been challenged to inspect the model and develop a measurement concept that detects as many flaws as possible. However, it is not only the successful detection of flaws that approaches promising to win but also economical aspects had to be evaluated like inspection time, cost and effort.
The team from the Prof. K. Baršauskas Ultrasound Research Institute, KTU, supervised by prof. dr. Elena Jasiūnienė developed and demonstrated a numerical approach for the jet engine turbine blade model that detects most of the artificial defects in the model using ultrasonic and radiographic non-destructive techniques. On top of that, the team provided an intricate analysis of this component with in-depth results which lead them to secure the first place of the competition.
Team members: Mastan Raja Papanaboina, Donatas Cirtautas, Aadhik Asokkumar.